An Unstable Season
or, what REALLY happened when we did a necromancy
Today's piece owes a sinister and ambiguously-worded debt to Sam Kabo Ashwell.
A lot can happen in a blaseball season. Last time I checked in, blaseball fans had just done a successful necromancy, defying the gods and bringing back first-incinerated Seattle Garages player Jaylen Hotdogfingers back. (Back from where? We'll get to that.) We held our breaths to see if our audacious gamble would pay off, and it did--but escalating the drama beyond our expectations, perpetual underdog Mike Townsend was exchanged for Jaylen. The community mourned and celebrated, and the Mike Townsend musical trilogy was completed in cathartic and heartrending fashion. We'd really done it, even if the cost was Mike's sacrifice—because he was a player who already had a substantial amount of widely-known character development, this was able to feel like narrative closure rather than random cruelty. For a lot of people, I think, the emotional capstone of the season wasn't the final, or even the triumphant act of Necromancy, but the narrativization of the act of Necromancy—Mike Townsend (Knows What He's Gotta Do), etc.
Jaylen had come back with two new status icons: "Returned" and "Debted". While these were ominous and kicked off a lot of speculation, new icons at the beginning of a season that coincide with just-introduced mechanics are a routine feature of blaseball. We discovered on Day 5 in Jaylen's first game back that she had an unfortunate habit of throwing pitches directly at batters she was facing. In baseball, this is colloquially referred to as "beaning", and it's definitely not something you want to happen—a ball winging your head at 100 mph, even with a helmet, isn't pleasant. In blaseball, this is something that just didn't happen until Jaylen. Players who were hit got the Unstable icon, and every nine days all players lose their Unstable status, but other than that its effects were kept secret. So, time for blaseball's favourite pastime: speculation. The Garages happened to run up some uncharacteristically high scores—including a 20-1 trouncing of the Moist Talkers—so perhaps Instability was tanking hidden Defence stats.
(It's always amazing when the denouement turns out to be far, far worse than the speculation.)
Jokes, speculation, anxiety. The Instabilities accumulated. In Game 30 against the Hades Tigers, Jaylen beaned three players: McLaughlin Scorpler, Moody Cookbook, and Zion Aliciakeyes. Game 32 for the Hades Tigers featured a Solar Eclipse, the weather effect where rogue umpires occasionally incinerate players; seasons 2 and 3 saw many incinerations, but they'd become relatively rare since then. Partway through the game, Moody Cookbook was incinerated and replaced, and fans saw a new status: that the Instability had chained to Elijah Bates of the Moist Talkers. The text on the Unstable effect was revealed: Unstable players had a drastically higher likelihood of being incinerated during a solar eclipse. Suddenly and horribly, we understood what the mechanic actually did, and before anyone had time to process this, Elijah Bates was incinerated and replaced, and the Instability chained and struck again, incinerating McLaughlin Scorpler. There's an awful-but-narratively-fascinating note of irony to this one: Scorpler had received two blessings in the Season 5 election, a jacket that made him immune to Incineration and headphones that made him immune to Reverb. Because players only have one Armor slot, however, the game discarded the jacket—his previous armor—to give him the headphones. Blaseball has a small thing for this kind of order-of-procedure irony: consider how Jessica Telephone became the Steaks' best batter immediately before being stolen by the Pies.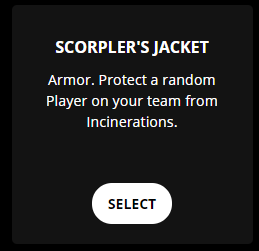 The game was an all-out screaming horror, and fan reactions were all over the place. Some who had been anti-Necromancy from the beginning essentially went "I told you so". There was anger of various kinds, directed at: the Garages, the gods, Jaylen Hotdogfingers, all the teams who had peripherally participated in Necromancy, either in-lore or mechanically. Some people wanted to get rid of Jaylen ASAP, either by shelling her, sending her back to the Void, or giving her to another team; others were excited by the prospect of a terrifying undead revenant bent on collecting an unspeakable debt. There were a number of different characterizations of Jaylen: the person playing her on Twitter chose to go in a "penitent unable to control herself" direction, eventually posting pictures of zucchini bread she had baked in between the contrite Notes app apologies for incinerating half a team here and there. Other people gleefully leaned into the exultant destroyer in their fanart. (Perhaps unsurprisingly; blaseball sure loves a demon girl.) The community generally recognizes that any time a player dies there will be fans who are sad and angry, and is good about acknowledging and making space for that, but all this was So Damn Much that the whirlwind of apologies and sympathy added to the sense of general chaos. The bloodbath of the Tigers-Talkers games was termed "Ruby Tuesday", which struck a good note between pathos and comedy. 
Incinerations continued. Fan favorites burned. All we could do was scry the schedules to see when we'd have to face Jaylen, or a team still carrying her curse. Because teams mostly face opponents from their own division, the Garages' fellow Mild High members, the Hades Tigers and the Canada Moist Talkers, suffered the most from these chain incinerations.
Despite the fact that we were learning a horrifying lesson about the consequences of our hubris, we decided to do something even more blasphemous: the Snackrifice.
For this to make sense—such as it does—we're going to need to back up and talk about Idols and Shelling. When the Peanut came down to observe the red line, it expressed its displeasure at our failure by Shelling Jessica Telephone and Nagomi McDaniel, the two non-Peanut-named players in the Top 3. Nagomi and Jessica had been Idolized due to a combination of genuine player affection and because they were two of the strongest hitters in the league, and Shelling sealed them into giant peanut shells, ensuring they could not actually bat. (They could still field, somehow.) We didn't know that Unshelling a player was possible, or how, until two-thirds of the way through Season 7, when birds pecked Jessica Telephone free. She was left with the Superallergic status icon from her time in the shell; we don't know precisely what that means, but it can't be good. The two best batters in the league missed most of the season, and the championship games due to, essentially, blaseball's version of injury.
The Unlimited Tacos (formerly the Los Angeles Tacos) looked at this and went oh hell yes. Blaseball has lots of teams who are pretty terrible and are okay with it, but the Tacos go way beyond that. They have always been a mediocre to bad team, and when they get blessings, those blessings make them worse—often in weird, reality-warping ways. In Season 3 particularly, we don't even know how, precisely, the Grand Unslam, Full Anticapitalism, Interviews and/or Exploratory Surgeries interacted to turn them into the Unlimited Tacos, produce the Wyatt Masoning, and turn one of their players into an error code. (Also worth noting: The Game Band is mostly a Los Angeles-based outfit, which might contribute to their willingness to let their home team be complete trash.) The Tacos don't fear poor performance or ruining the fabric of reality, because all of that has already happened to them.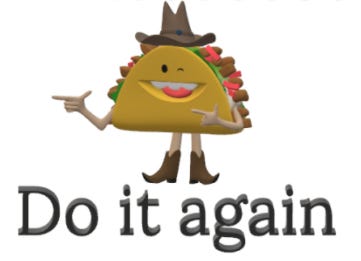 "Do it again" has come to exemplify the Tacos' willingness to take a hard fall for the sake of the bit, and here, once again, they stepped up to the plate. Their plan, termed the Snackrifice, was to get all 5 of their pitchers above the red line so that they would be Shelled at the end of the season, and therefore could not play because none of their rotation could pitch. It was, essentially, a dadaist labor strike. It's worth reiterating that we did not actually know if Shelling would happen again this week, whether the Peanut-named players were above the line or not; this was a tremendous gamble.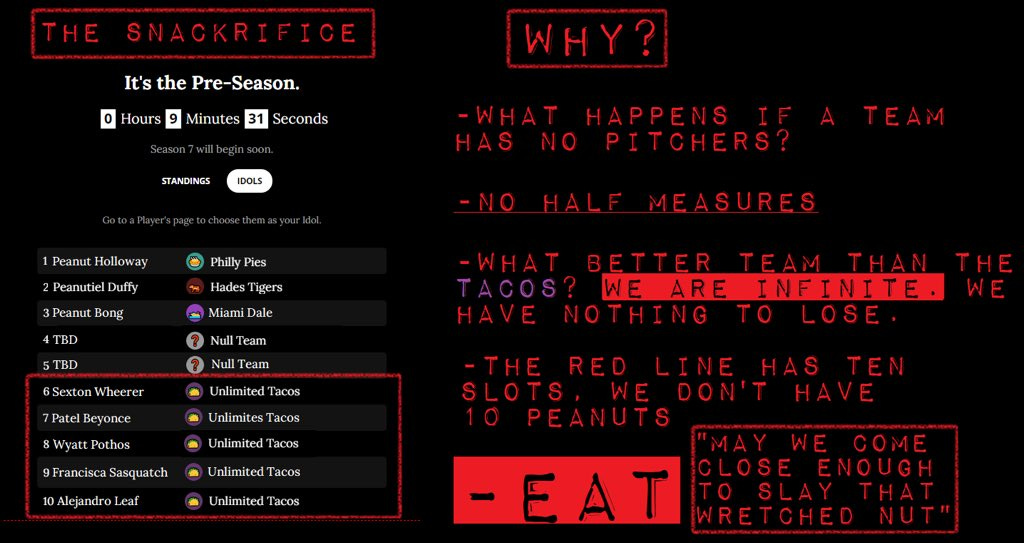 Infographics and memes were created and circulated on Twitter and Discord, and early in the week, I did not think it would work. And as the season wore on, there were a lot of simultaneous propaganda efforts happening around the Idols leaderboard: Get York Down and then the subsequent Save Polkadot Patterson; keep Jaylen Hotdogfingers in 14th, hoping she'd go to a non-Garages team; get the Peanuts up above the red line, now that we knew the consequences and the line had dropped to 10. Sam Kabo Ashwell observed that this week, getting the Peanuts above the line was less of a puzzle and more "shooting fish in a barrel but everybody has to hold the shotgun at once"
The chaos only intensified in the final minutes: people were shouting and throwing "unidolize York" and "unidolize Polkadot" propaganda back and forth until the moment the red line locked; it was so chaotic that multiple fans reported seeing different results every time they refreshed the page. When the dust settled, we all held our breaths—we had somehow pulled off the impossible. All 3 Peanut players in the top 10; all 5 Tacos pitchers in the top 10; the York Silk campaign had just barely won out. Axel Trololol, the League's best pitcher, remained at #1; the Crabs have claimed that this was their noble snackrifice contribution after being an enviably dominant team for the past two seasons. I will choose to give them the credit for this instead of wondering whether this was a non-Crabs effort to lightly shell the Crabs; they certainly didn't mount an active campaign to save him.
(To put this in perspective: the best pitcher in the entire game, playing for the still-dominant reigning champions, was taken out by scheming-related injury on the eve of the championship games, and it barely even registered in the conversation. Such is the chaos of blaseball.)
The Peanut, when it appeared, seemed mildly impressed at our efforts: it offered begrudging praise for our mediocre Peanuts and seemed a little irritated at Snackrifice. (When a god you have recently tested says "wow" once, it might be good. When it follows that with "woww" and "wowww", it's probably not good.) Notably, it (dismissively) acknowledged the growing amount of fan-lore about unionizing, saying "YOU WITHHOLD YOUR LABOR? YOU THINK THAT GIVES YOU POWER?". It then dispensed a massive reward of seemingly-useless peanuts to everyone, then suddenly disappeared, replaced by a levitating, curious squid: what we've since learned is the Monitor.
The Monitor appears to have followed Jaylen back to this realm from 'the Hall'—that is, the Hall of Flame, recently unlocked when blaseball reached its $10,000 Patreon goal. (This is my gentle reminder to donate to the Patreon if you're able and enjoy seeing these sort of wild stunts, since gameplay chaos seems to be directly tied to how much money The Game Band can raise. As a formerly-indie developer, I salute this.) The Hall memorializes Incinerated players, allowing you to pay respects with Peanut offerings, but it will surely have other effects going forwards. Anybody hoping that the Hall will let us rescue the dead en masse would probably do well to consider our record with Jaylen. The Monitor's interest in "tiny eggs" is akin to a dragon demanding we feed it princesses: it's not trying to be "cruel", it just operates on a completely different plane of logic than we do.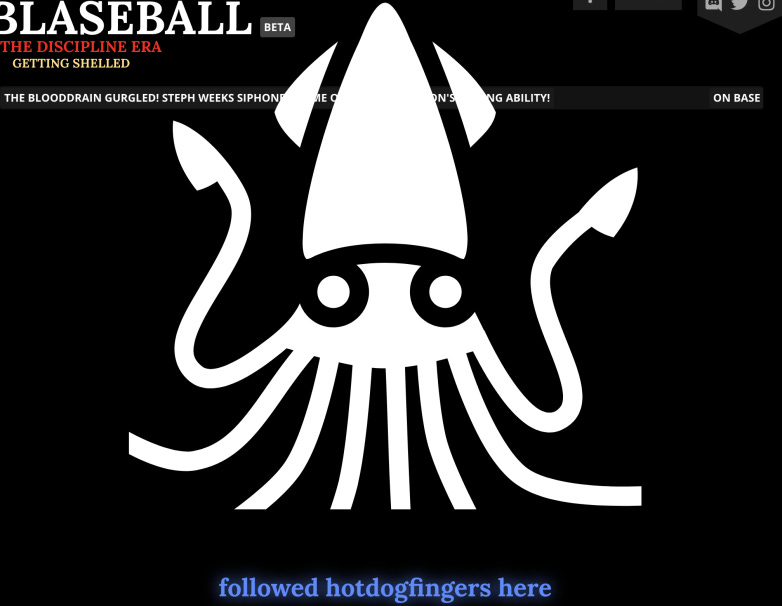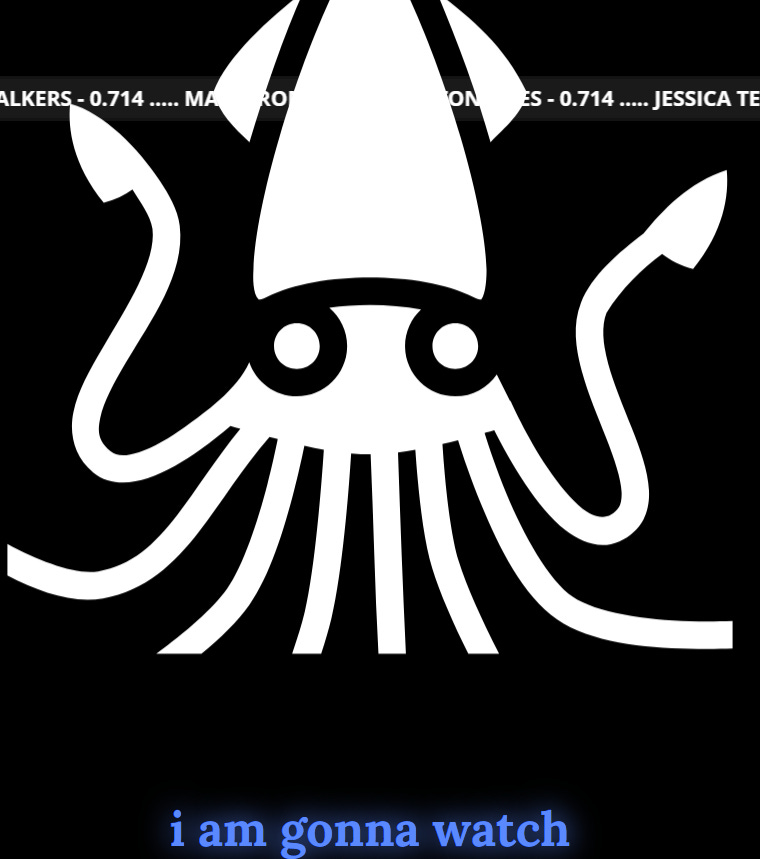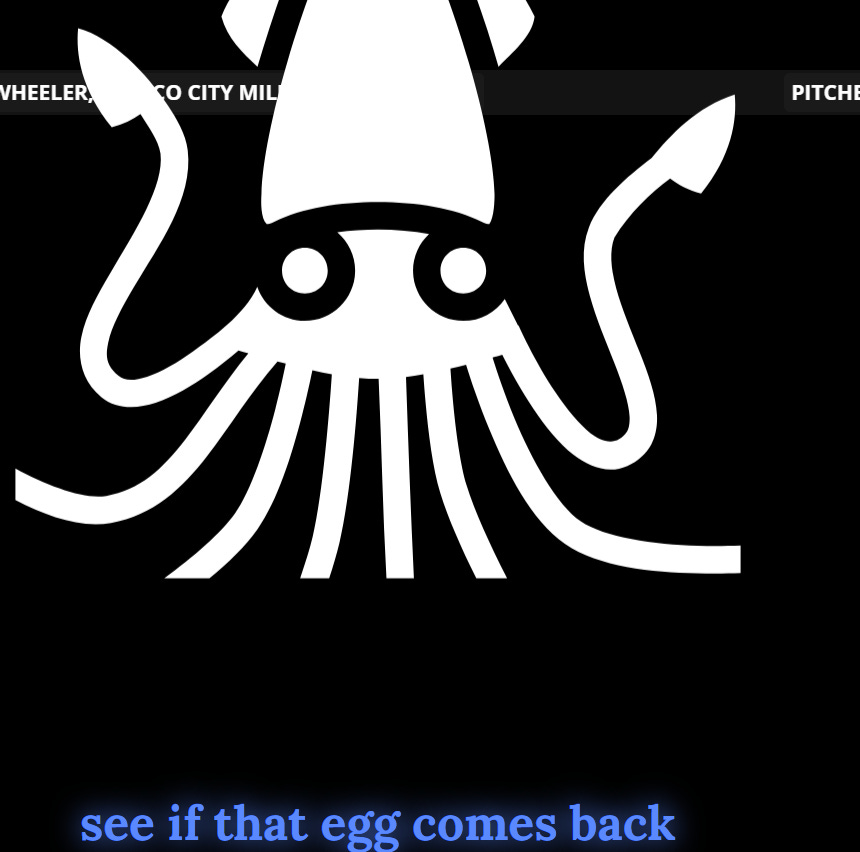 The Commissioner has the affect of a gentle-souled but incompetent regional manager who has just been woken from a nap by a subordinate; the Peanut is an oracular god-king who's constantly irritated that we don't take this as seriously as he does; the Monitor speaks like a small child that doesn't realise it's a city-block-sized monster. The Monitor wants to eat the Peanut, which it thinks is an egg, and it will hang around to see if that egg comes back and watch Jaylen play some ball in the meantime. There's an interesting parallel here: in the world of blaseball, you only escape from a scary, demanding god through the advent of a scarier and hungrier one; just as the natural follow-up to a disastrous plan is a bigger, messier, more hubristic plan.
Also, the three Peanut players are still with us, but now they've got the status Honey-Roasted. We don't know what that means yet.
The dynamic between the developers and the fans is very much centered around planting and payoff, and the most effective, satisfying forms of planting tend to be things that work as a good footnote joke. Last week I wrote about the fun footnote of the legal battle between the Wings and the Commissioner which culminated in their name being changed to the Mild Wings. The Wings made it to the postseason—but that meant they had to face the Garages in the semi-final, with Jaylen pitching in the very first game of the series. Jaylen promptly beaned five players—the most ever hit in a single game—and won the game 7-1.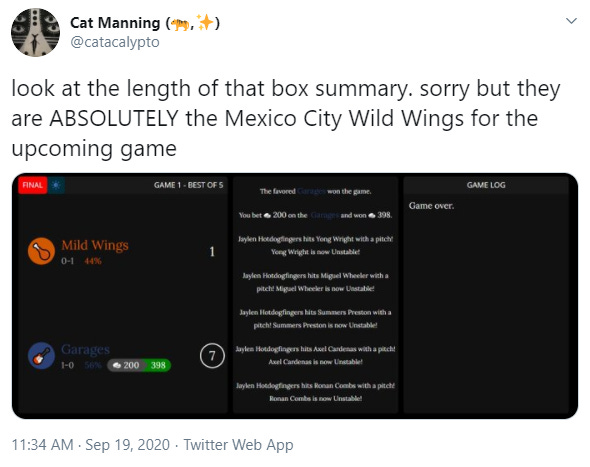 Feedback is an effect that shuffles teams around—reorganizing lineups, even trading players between teams. And the Commissioner usually announces its occurrence. But that usually happens during games, not in between them.
And then people noticed that the Mild Wings were the Wild Wings again, and the Wings fans exulted. The Wings lost one of those Unstable players—Miguel Wheeler, rest in violence, who fanonically was a car tire piloted by a swarm of rats—but they went on to win the Championship.
If the Wings hadn't made the postseason, or had been knocked out by the Breath Mints in the first round, it wouldn't have been a big deal—it would have been a fun footnote. The name change wasn't exactly a reward for "being brave enough to take on the Commissioner": instead, it was "you did a good bit, so we'll make that bit pay off narratively when your team runs into a Big Narrative moment again." Blaseball relies on having a lot of these apparently-trivial narrative threads running at any one time, so that there are always some relevant ones to bring to the foreground during moments of crisis and catharsis.
The current planting note I'm following up on this week has to do with a particular triumph of the Yellowstone Magic. The Magic are a solidly chill, middle-of-the-road team that pride themselves on getting as neutral a record as possible to match their team motto of "As Above, So Below". They've got a very distinct vibe, and the sense I get from them is that while they are playing blaseball with the rest of us, they are also playing another, deeper, more obscure game that allows them to be sanguine about the constant vagaries of fortune. (It hopefully does, because they have not received a blessing since Season 1.) The Magic's victories are usually quiet, not breaking out of team lore into the broader narratives of the league. But then their 2-star pitcher Inky Rutledge pitched a no-hitter—the first that we have solid records for—whereupon the Commissioner announced that Inky had found the 2-blood blagonball. 
Definitely not related to any similarly-named franchise, blagonballs are hidden unlocks, discovered during particularly notable and unprecedented feats. (The 3-blood blagonball was discovered by New York Millennials player Sandie Turner after they batted a single and went on to steal second, then third, then home. The 5-blood blagonball was discovered when the Patreon reached $5,000, the enigmatically-worded reward for which was "something will happen". At time of print these are the only discovered blagonballs.) We aren't fully sure what a blagonball does: like any blaseball mystery, it's probably not good but people really want to see it anyway. Raucous joy ensued among Magic fans—finally they had a unique record that was theirs alone. Every season has a championship winner, but now they'll always be the team with the first confirmed no-hitter, and blagonballs are rarer than championship pennants. Among the celebrations, a campaign started immediately to let Inky pitch the blagonball.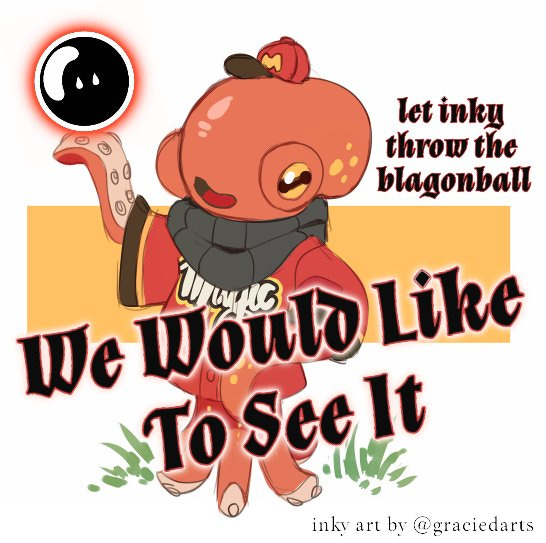 (meme edit by bethy, of an original image by @graciedarts)
Once again, the Magic did not receive any blessings this season, despite the Top 4 teams being shut out of blessings by the Bless Off Decree. But then someone noticed an addition in Inky's item slot that wasn't related to any election blessings: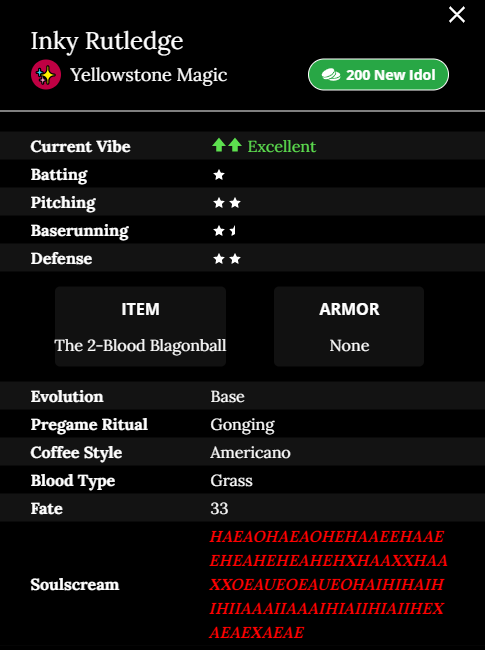 This is almost certainly fine. Inky has already pitched once this season, and nothing immediately visible has come of it. Yet.