The Rest Is Violence
or, what happened when we learned to stop worrying and love the Monitor
Today's piece owes a soteriology-problematizing debt to Sam Kabo Ashwell.
Blaseball's back from its Siesta, and so am I. As usual, a lot happened in Season 8, but all of the cool narrative foreshadowing from the early part of the week didn't actually come together into one overarching narrative arc that finished the season—other than the Microphone, which we'll get to later. And actually, I'm kind of happy with that. We've never been waiting for the One True Story to emerge from the chaos: blaseball is about a bunch of different threads, which sometimes run into each other. Some stories progressed this week; some mysteries and clues lingered, to be picked up in Season 9. Let's dive into some of the most interesting from Season 8.
We were all anxiously watching Jaylen Hotdogfingers after the bloodbath of Season 7, and fans noticed that the icon indicating her debt had changed to "Refinanced"—with the Microphone's telltale style of writing.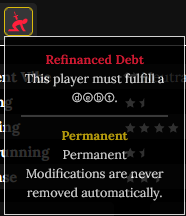 Sure enough, players beaned by Jaylen were now "Flickering". We had to wait a bit to discover what Flickering did, but our early speculation proved correct: Flickering players had a high chance of being swapped—traded between teams, mid-game—in Feedback weather. This was considerably less painful than incinerations were, and it notably meant that the Garages, which had mostly been spared Jaylen's wrath in the previous season, took the brunt of the effect.
As blaseball's version of player trades swept the leagues, new connections between teams were forged. When players get feedbacked, it's often a painful moment for fans who are attached to that individual or their team composition, and there's a ritual that's developed in the wake of it. Members of the player's previous team pop into the new team's discourse to share links and lore tidbits and tell stories, essentially becoming the interpreter that takes previously diffuse headcanons and solidifies their lore into a few takeaways. It's a bonding moment, where both teams promise to take good care of the new player—an empty promise, since blaseball's complicated systems mean that players are sometimes on their new team for very little time before being feedback swapped again or incinerated. (Take the case of former Tacos hitter NaN, who didn't even spend one full game on the Spies before Flickering again to the Wild Wings.) But for the most part, fans try to embrace their new players wholeheartedly, while honoring their origins and histories. When Paula Turnip, the Tigers' beloved player and connection to the Landry Violence Arc, got swapped with Paula Mason, the Garages came to tell us that Paula Mason's lore gave her a connection to the Spirit of Violence. It turned out Mason had received the Performance Enhancing Demons blessing while on the Chicago Firefighters at the end of Season 3, and that team had decided that the three players affected were blessed by the Spirit of Violence. A blaseball team isn't just a list of players: fictionally it's an aesthetic, an attitude, a system of loyalties—and any change in the lineup requires that to be adjusted and reconciled. Having representatives from each team bridge that gap is a way of smoothing that process.
The Monitor did make an appearance early in the season, to make a request and to deliver a necessary quality-of-life feature. I tend to expect that any explosive mid-season revelations will manifest somewhere around Game 33 (best known for Ruby Tuesday). And right on schedule, after Game 32, the Monitor requested that we "hurry up" the feeding of "tiny eggs", aka the peanuts that fans were using to pay tribute to incinerated players in the Hall of Flame. When the Monitor disappeared, we discovered that we now had sliders that allowed mass-buying of votes and mass-tributing. Previously, every single peanut tribute took one mouse-click—and peanuts get bought in lots of 1,000. Players had been demanding this for a while, correctly pointing out that it was an accessibility issue; while I'd seen it requested for vote buying, the introduction of the Hall caused a significant and vocal uptick in the requests. If the Game Band had planned this from the start, the sliders could have been easily and unobtrusively rolled out alongside the Hall. So an in-game reason for the change and interruption was needed, and thus the Monitor delivered. This had the effect of emotionally attaching us to the unseelie creature that keeps heavily implying that it will eat shelled players. It's a very smart piece of game design: the external necessity of updating the website to add a feature gets woven into the narrative in a way that isn't just connected to the plot, but actively makes players root for this new character because it's given us something we want. 
The other major thing in the early part of Season 8 was the consequences of the Snackrifice. As you may recall, the Tacos succeeded in shelling all of their players, preventing them from being able to play blaseball. But on the first day of the season, there was a fix that initially seemed to be a denouement: they had one pitcher, labeled "Pitching Machine", which was a 3-star pitcher (notably, better than any of the shelled Tacos pitchers outside of Wyatt Pothos). Because of the way that names work in blaseball, it's impossible to tell if the new pitcher is a pitching machine, or if it is an individual with the name "Pitching Machine". I'm choosing to refer to it as the former, but do keep in mind that the sentience and form of the Tacos' new pitcher is currently left as an exercise to the player.
Here's where things get hilarious. Players can currently generate passive income by Idolizing a player; they'll then earn coins when their idol does cool stuff. Idolizing a pitcher is considerably more lucrative than Idolizing a hitter, but it probably shakes out about evenly if you don't constantly switch Idols (which takes coins to do). This is because—unlike the relief system on actual baseball teams—blaseball pitching follows a strict rotation, and most teams have five pitchers to rotate through, so your superstar pitcher will only actually play in 20% of scheduled games. Some fans have figured out a rotation of which pitcher to Idolize per game, a strategy which rakes in coins but requires a tremendous amount of maintenance to keep up. However, the pitching machine pitched every single one of the Tacos games: if you wanted quick cash, you could Idolize pitching machine and just rake it in every game. So predictably, the pitching machine shot to the top of the Idols board. Some Tacos fans, meanwhile, got attached to their new pitcher—at least partially because it was winning them games—and begged fans not to shell the pitching machine. Because the Snackrifice had been framed by some—and apparently acknowledged by the Peanut—as a sort of labor strike, discourse about whether or not the pitching machine was a scab ensued, causing the Discord to be put on slowmode. 
Meanwhile, the pitching machine continued to grow in power by drinking players' blood. (Any player can do this, but it takes on a new aspect when the training equipment joins in.) Shelling the pitching machine was almost an inevitability at that point—we still had a red line on the Idol board, even if we weren't as focused on it, and even though the Tacos' perpetual pitching machine lineup was shaken up when birds pecked Sexton Wheerer out of their peanut shell, enough people kept Idolizing the pitching machine. This was fundamentally a really interesting emergent story about capitalism and desire: for fans that considered the Tacos' act a labor strike, the pitching machine was breaking that strike—but it was also far and away the best way to generate personal income. The whole episode generated questions about automation and what's easiest for the individual vs. the community, and also some very funny discourse about the definition of a strike and what texts one should read before deciding if the pitching machine was bad praxis. Political metaphors about weird fictional worlds can be hard to sustain in detail: a good simulation doesn't seek to accurately mirror back reality, it tries to capture a facet of it. One of the best things models—simulation and other forms of fiction—can do is allow us to consider alternatives to real-world problems and arm us with the insight and passion to tackle them as they exist: but mapping our current moment directly onto the careening apocalypse of blaseball is always going to be unsatisfying in one way or another.
But most of what caught my interest in Season 8 were small moments that were disparate consequences of earlier Big Overarching Plot, rather than a coming-together of existing threads, or the emergence of yet another Big New Thing. Instead, we got a dispersal phase of the effects that had been building up from past seasons. Seasons 6 and 7 were very high intensity, narratively speaking, and you arguably don't want to operate at that pitch constantly. Season 8 gave the game mechanics themselves a bit of time to breathe and show off, and show off they did.
First up: Stats Aren't Real. Okay, I'm kidding, and I am genuinely grateful for the amazing work SIBR (especially with Reblase) and Blaseball Reference do that makes writing this newsletter much easier. But part of the fun of stats is using them to predict how a player is performing compared to how the data that we have surfaced suggests they should perform, which is incomplete and RNG-driven. This is always going to be an inexact science, and I'm always fascinated when I see fans complain that a player is "underperforming" compared to what the data suggests they should. Anyone who's ever played XCOM knows that a 95% chance of success is not a guarantee, and it's a well-known issue in game design that people's intuitive understanding of probability is often very off, in ways that can make designing a game that feels "fair" a real challenge. And to me, the element of surprise is wonderful. Take this moment: Ortiz Morse became the second player in all of blaseball to pitch a no-hitter. He is, statistically speaking, the worst player in the splort. (The only other player to pitch a no-hitter? He has pitched five. Speaking of statistical anomalies.)
On the subject of statistical anomalies and probabilities, let's talk about the Crabs' record. There was a noticeable increase in complaints about Inevitable Crab Dominance during Season 8, but it's worth noting that while the Crabs have been ranked first in the last three or four seasons, they've only won two championships, putting them level with the Pies and the Tigers. Part of this is because Axel Trololol is shelled, and something may be happening with the Crabs' pitching lineup that's disproportionately putting their weaker pitchers on the mound more frequently than the rotation I mentioned before would indicate. But if this weren't happening, the Crabs would be even more dominant, and I expect complaints would only increase. Part of the problem with both sports and splorts is that "the favorite wins" is a really boring story on its own, but the favorites win a lot. Blaseball is most interesting when the Championship match isn't the main story, narrative-twist underdog stories like the Mild/Wild Wings are the exception, not the rule. Fortunately, blaseball has a lot of fragments that threaten to become the main story at any one time.
One of blaseball's best features is the "oh, so that's what it does" moment. Status effects are often obscure until the moment they trigger, and everyone watching goes "oh, so that's what it does". This occurred in spectacular fashion when, during Day 94, a rogue umpire tried to incinerate the Miami Dale's Beck Whitney. Raúl Leal, her teammate, wields the Iffey Jr.: a Season 7 blessing that minimized him, leveling all his stats to 0 stars, but protects his team from incinerations. Not only was Beck Whitney—adorable fan favorite and also the Dale's best batter by a good margin—not incinerated, but the umpire was incinerated instead. This was the first instance of umpire incineration in Internet League history, and has caused the Dale to campaign for all of the incineration related blessings in Season 9. 
Sometimes blaseball's moments aren't as big as an incineration, but are a series of satisfying results of the systems interacting to offer up a narrative. On Day 90, Alyssa Harrell swapped teams twice due to Feedback: from the Fridays to the Pies and back again, two innings later. On the first swap, she was instantly up to bat, and promptly hit a ground out to her previous team. It's a perfectly normal thing to happen in blaseball, but with the Feedback, it's tempting to read it as a passive-aggressive "I am absolutely over this and refuse to do my part". When she swapped back to the Fridays in the 4th inning, she once again immediately hit a ground out, to remove any impression of shenanigans or favoritism. A great deal of the unintentional comedy in procgen systems comes from repetition occurring where it wasn't expected, which makes things read differently. Think about Jessica Telephone returning to the Pies after her championship run on the Tigers, which cemented her to me as a Pies player who would go wherever she could help a team rise to victory, rather than a wandering free agent. Repetition is a requirement for patterns, which we intuitively seek out and generate explanations for, and explanations produce narrative.  
Even if blaseball's systems didn't give us a huge satisfying moment that tied everything together at the end of the season, several major plot threads that had been previously left hanging were picked up. The Microphone, an odd, often marginal oracular figure that speaks in plaintive fragments, had been teased all season: small microphone icons appeared beside several of the spots on the Idol board. No clear plan to address these new icons cohered throughout the season—a number of plans were offered, but they were incredibly confusing and not particularly persuasive. The infographic format that's caught on in the blaseball fandom couldn't make sense of the proposals, and by the end of the week, parodies of Season 8's plans began to surface that made more sense to me than the unironic calls to action. Eventually, though, enough fans settled on boosting NaN, Jaylen, and Sixpack Dogwalker to the spots—a collection of decent guesses, rather than a cohesive theory. When the Microphone tweeted "here goes nothing" right before the Idol board finalized, in blaseball's first integrated cross-platform beat, it felt like an accurate assessment.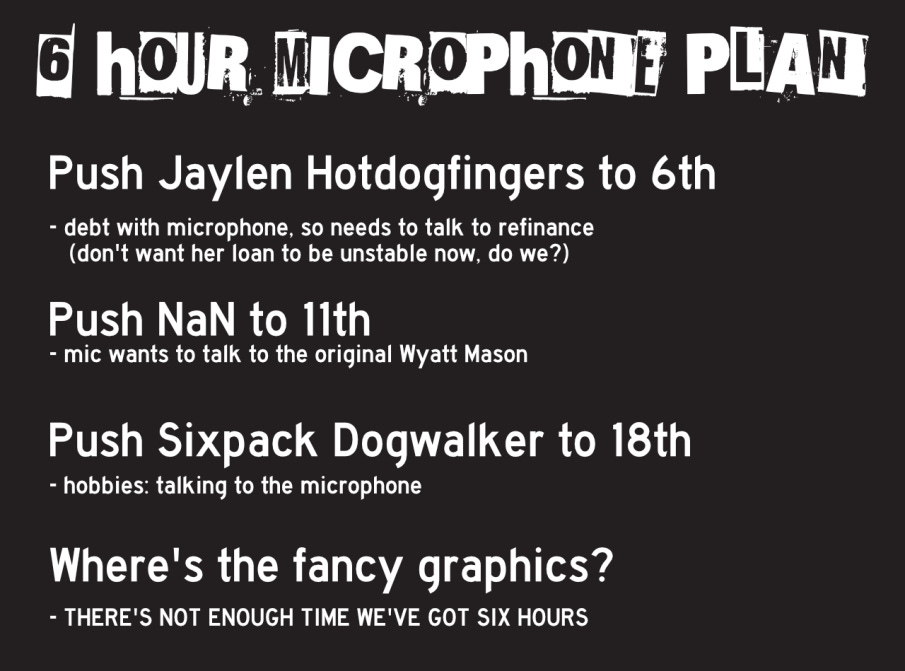 And then the Microphone spoke through them. All three of them received the Flickering modifier permanently—the modifier usually dissipates—and Sixpack and NaN gained the new Receiver modifier. (Jaylen didn't—my thought is that she is too unheimlich already to be of any use to the Microphone, but also she's the only pitcher of the three.) Also, Sixpack and NaN's pregame rituals changed:
Hi friends

It is Wyatt

I have a plan
We only noticed this after the Peanut had finished the latest bout of its recurrent ineffectual chiding, which had been interrupted by the Microphone tweeting. This, too, was interrupted by our new definitely-friend the Monitor, who rather clearly sowed the eggs—sorry, the seeds for what we would see after the Election. The Monitor did not, however, consume the Peanut, much to our surprise and outrage. We had been anticipating all season that this was an imminent possibility, and may have engaged in more "EAT THAT NUT" chanting than was strictly decorous.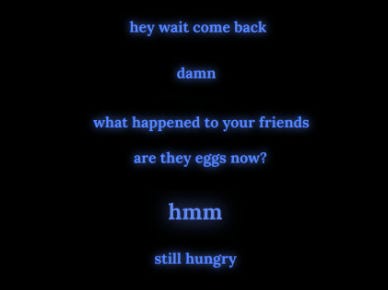 A number of the Election results also felt like satisfyingly apropos caps to loose threads of story and theme. The Yellowstone Magic finally got a blessing, after eight seasons without one, in the form of a player stolen from the Garages' Shadows by the name of Chorby Short. The Tigers poured votes into Composite, sending their weakest pitcher to the Shadows and boosting their pitching power significantly—the ruthlessness of this feels like a very Tigers move, and I approve. And in a season that was marked by the Garages finally being hit by their own storm, the Blessings they received turned that up to 11.
The Seattle Garages poured their votes into Promo Code, and won it with 44% of the vote: this blessing gave them one additional pitcher in the form of Lori Boston, bringing their lineup to six. They'd looked into the Forbidden Knowledge and knew that the pitcher's stats were terrible, but one more pitcher meant more space between Jaylen's onslaughts. It was a self-inflicted kneecapping designed to minimize the pain Jaylen caused: but she had the Flickering modifier now, and in fact Feedbacked away from the Garages early in Season 9, leaving them with an utterly terrible lineup and without the reason for it. (She did return, but then Feedbacked away to the Moist Talkers and then the Shoe Thieves, where she is at the time of this draft.) Ultimately, the gesture reads to me as an olive branch to the rest of the league, less for what Jaylen was doing or might do, but an attempt to mitigate her damage after the bloodbath of Season 7.
Order of procedure irony struck again, because the Garages received four blessings, in the following order: Forever Physical, Promo Code, Home Field Advantage, and then New Kid. First up, Forever Physical. Ron Monstera was blessed with the Stable modifier, which protects him from the Incineration-attracting Unstable modifier, and which is currently useless because no player is handing out Instability anymore. Then Promo Code gave the Garages Lori Boston, as I've just mentioned. Home Field Advantage starts the Garages with one run during home games: kind of great. And then New Kid kicked in, which incinerated the least idolized player on the Garages: the newly Stable Ron Monstera. 
Because Promo Code had ensured the lineup rounded out at six pitchers, Ron Monstera was replaced by Durham Spaceman, a 2 star pitcher. Ron Monstera had been a perfectly average 2.5 star pitcher, but he had a presence on the Garages, as cemented in The Garages' musical lore. There's a song named after his pregame ritual of "talking to the parasite", and my Garages consultant insists I stress that "it fucking slaps." After a season where the Garages' original lineup had been hollowed out by Feedback, Ron Monstera's incineration felt like a cruel punchline—and also a reminder that, with Idolization as a tool for generating player income as well as manipulating big in-game events, it doesn't always accurately reflect a player's popularity. 
There's an old joke about team loyalty and trades in the inferior sport that goes, "at the end of the day, you're rooting for laundry". And there's some truth to that—as I mentioned earlier, a team isn't just the players, it's the culture, ritual, and vibes. But it's also the players, and when a bunch of new folks show up from all over the league, with their own ties, it's sometimes hard to reconcile that. Ron Monstera got his own memorial track, in true Garages style, called "Fundamentals"; it pays tribute to his reputation by being nearly seven minutes of experimental music. A fitting sendoff.
This recap of Season 8 wouldn't be complete without mentioning that we have technically incurred the Fourth Strike, a pronouncement delivered with such anticlimax that I initially forgot to include it when outlining this. In the moment, it admittedly felt ominous: but it also felt vaguely funny: the possibility of another strike has been hanging over players' heads like an apocalypse clock ticking closer to midnight, and every tick ratchets up the dramatic tension and rampant player speculation. If the final tick of the clock ends up feeling like a dud, then the Peanut diminishes as a genuinely frightening threat. If all it can do to punish us for our transgressions is occasionally Shell a player, then it's a bit of a paper tiger. Apologies to my team. 
We haven't seen the Fourth Strike mentioned at all yet this season, adding to the sense of anticlimax. Which I'm sure means it's going to be very, very bad when it does kick in.